Supported Recorders
Does GEAR Software work with your recorder?
GEAR Software products support nearly all CD-R(W), DVD±R(W) dual-layer, DVD-RAM recorders that support the MMC (Multimedia Command) standard.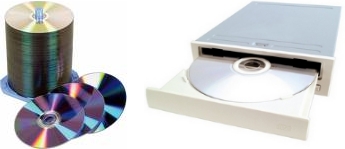 Note: GEAR PRO Mastering Edition 8 supports recording Blu-ray data discs
GEAR Software no longer maintains a 'Supported Recorders' List. If your recorder is recognized by your 'GEAR Powered Product' and you are having problems using that product, please contact the Support Desk for that product directly.
If your 'GEAR Powered Product' returns an error message indicating that a recorder is not found, or a similar message suggesting that your recorder is not supported, please download and install any GEAR Software product for Windows. They are available as fully functional 30-day trials from the products page.
If your recorder works without error using a GEAR Software product, then the issue lies with the 'GEAR Powered Product' you are using, not with GEAR. Please contact the Support Desk for your 'GEAR Powered Product' as we will not be able to help you.
For information regarding licensing the GEARWorks API for adding optical recording capabilities to your software product, contact sales@gearsoftware.com
GEAR works with most DVD and CD recorders.
GEAR is meant to work with all current and newly released drives via GEARís Dynamic Drive Detection (DDD) Technology.
If you find that GEAR does not seem to work with your recorder, or if you experience an issue using your recorder with GEAR or a 'GEAR Powered Product', be sure you are using:
The manufacturer's recommended media
(check the driveís documentation)
The latest firmware for your drive
The latest GEAR drivers
The latest recorder configuration files for your version of GEAR or the GEARWorks API:
In addition to all operating systems from Microsoft NT to XP and Vista, GEAR also works with several operating systems such as Solaris SPARC/x86, SGI Irix, IBM AIX, HP-UX, Compac Tru64, and Linux.
Note: GEAR PRO Mastering Edition 8 supports recording Blu-ray data discs